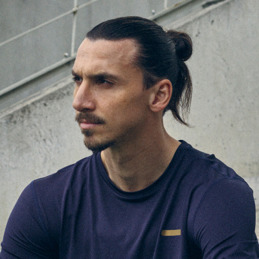 Zlatan Ibrahimović is one of the world's top football players (striker), having played for teams like Juventus, AC Milan, Barcelona, Paris St Germain and LA Galaxy.

In late 2011, Zlatan's critically acclaimed biography "I am Zlatan" was released and broke all sales records, selling more than 500 000 units in the first 6 months. The book has been translated into several languages, released in various formats as well as for iPad (app), and was nominated for the August Prize in 2012.

In October 2013 Zlatan launched his own app; "Zlatan Unplugged" and in November 2013 Zlatan Ibrahimović was awarded his record-breaking 8th Golden Football by the Swedish Football Association.

On March 27, 2014, Zlatan was honored with his a range of his own Swedish stamps, featuring 5 images.

Zlatan became historic and overtook the 82-year-old goal record for the national team held by Sven Rydell since 1932, scoring his 50th goal in a friendly against Estonia on September 4th, 2014.

On May 15, 2015, Zlatan became PSG's highest scorer ever in a single Ligue 1 season, breaking the record set by Carlos Bianchi in 1978. On May 21, 2015, Zlatan played his last game with PSG, scoring 2 goals.

On June 30, 2016, Zlatan announced that he signed with Manchester United.

On Nov. 21, 2016, Zlatan Ibrahimović was awarded his (way past record-breaking) 11th Golden Ball (Guldbollen) by the Swedish Football Association and Aftonbladet.





Business inquiries ONLY:
Mika Lepistö

Press, event, award etc:
Victoria Egler