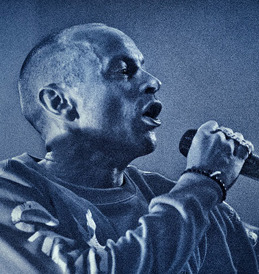 Petter Alexis Askergren is one of Sweden's most beloved artists and industrious entrepreneurs.

His first album "Mitt Sjätte Sinne" (My Sixth Sence) was released in 1998 and his second album "Bananrepubliken" the year after, wich awarded him with 3 Grammies.

In addition to his nearly 20-year career as Sweden's foremost hip-hop artist, he owns three restaurants, is a graduate somelier, an author, speaker and motivator.

In 2013 the first "Käk" restaurant opened it's doors in Stockholm, later followed by Käk Sundbyberg and more recently, Käk Örebro. The same year he celebrated 15 years as an artist, releasing both the album "Början På Allt" (The Beginning of it All), his book "16 rader" (16 lines) - and launching his own wine label, "P-LEX", short for Petter Alexis.

In 2014 he was awarded with Begriplighetspriset ("Comprehensibility Award") for "16 rader", which is a book about how his dyslexia led him into a life of music.

In November of 2016 the highly acclaimed book "Vin - så funkar det" ("Wine 101") written togehter with Alf Thumble, was released. Petter and Alf also currently hold popular wine tastings togehter.

Also in 2016, his follow up book to "16 Rader" - "Remix" was released.

Petter is one of Sweden's most sought after speakers with his talk "The brand, the artist and the entrepreneur". He is also an accomplished Swim Run athlete, and an avid skier.

Business inquiries
Mika Lepistö

All other inquiries
Victoria Egler