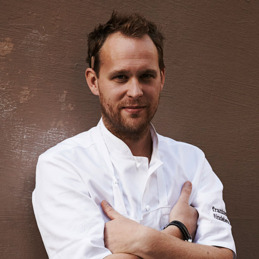 Björn Frantzén is counted among the world's top 50 chefs and the first Swedish chef ever to be awarded 3 Michelin stars.

Björn started his culinary career in the Swedish Army and shortly advanced to working with, among others, Raymond Blanc at the 2 star Le Manoir aux Quat´Saison and Alain Passard at his 3 stars L'Arpège in Paris.

Björn opened his first restaurant, Franzén/Lindeberg together with pastry chef Daniel Lindeberg in 2008, and they were awarded their 1st Guide Michelin Star in 2009. The 2nd came shortly thereafter; in 2010.

Björn Frantzéns new restaurant concept; The Flying Elk opened on March 12, 2013, and a month later Frantzén/Lindeberg became Restaurant Frantzén. Chef Björn Frantzén also runs Catering Frantzén, Salle de Banquet, and Gaston Wine.

In the spring of 2014, Björn starred in his own TV show "Frantzén styr upp" on Channel 3, where he helped stressed out families cook simple, nutritious and delicious meals.

In 2014/15/16 Björn features as Spedrup's personality for Mariestad Brewery.

In 2016 2-star Guide Michelin Restaurant Frantzén temporarily closed it's doors and re-opened on August 30, 2017, in a brand new location in the heart of Stockholm.

Björns best selling cookbook for diabetics came out in the fall or 2017.

On February 19, 2018, Frantzén became the first Swedish restaurant ever to be awarded 3 Michelin stars.

On March 5, 2018, Frantzén was awarded "Best Restaurant" and "Best Service Experience" at White Guide Sweden.
Business inquiries
Mika Lepistö

All other inquiries
Victoria Egler